Your emails convert, but what about your landing pages? If your email marketing is driving massive traffic to a poorly designed landing page, then your email program isn't doing its job. Find out how to build the optimal landing page in this article.
Where Are Your Customers Landing?
Fact: Email marketing is your golden, permission-based ticket to your existing customers.
The statistics heavily reinforce this idea: 59% of B2B marketers say email is their most effective channel in terms of revenue generation.
Here's another statistic to consider:
Case in point: Is your email marketing really doing its job if your landing pages are slow? If their value proposition isn't clear? If you have too few of them? If they have poor UX?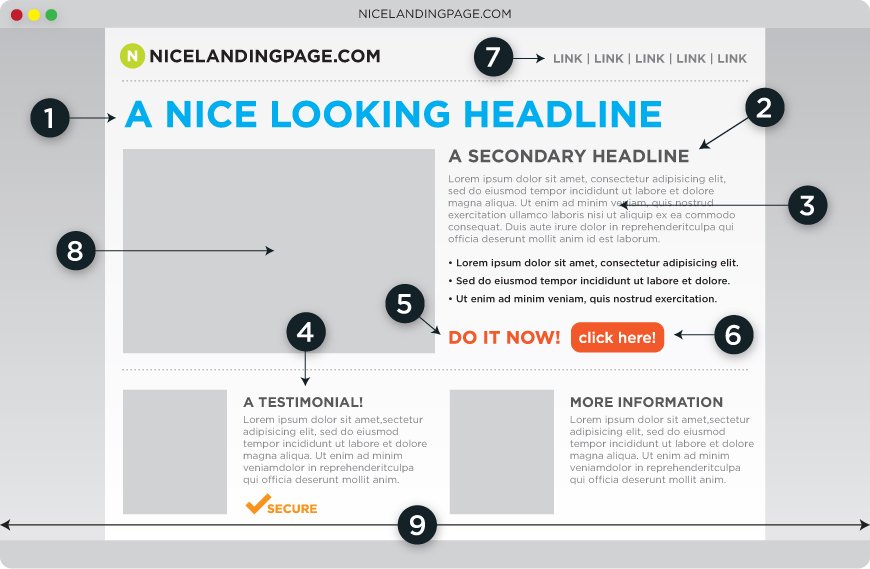 With the customer journey in mind, the importance of good landing pages are paramount towards the success of your business for generating revenue. How many landing pages does your company have, if any? Are you split testing these pages? What elements could you improve on your landing pages to generate more conversions?
If your email program is stellar at driving traffic to your site, you have to ensure your landing pages are carrying the baton to the finish line and delivering results.
Here's 5 few tips we've learned through countless years of on how to optimize your landing pages for optimal conversions.
Tip 1 – Clear Call To Action
Conversions all begin with one thing: a crystal-clear call to action.
Many landing pages do a beautiful job of directing traffic to their landing page through social ads, Google search, etc., yet drop the ball when it comes to converting end-users because of murky call-to-action(s).
Quick Tip: Does your headline match the offer of your CTA? It should! Otherwise, your readers might be confused.
Additionally, ensure your CTA is congruent with a specific benefit or value offered to the end-user, which is the reason they are visiting your page in the first place. Always lead with a benefit-driven approach with your copy and ensure your CTA reinforces said benefits.
When writing CTA's, think about these tips:
Start with a verb: Download, View, Get…

Write at a 5th Grade reading level.

Avoid flowery language or jargon.

Use value-based language such as: receive, better, save, etc.
"When it is obvious that the goals cannot be reached, don't adjust the goals, adjust the action steps." – Confucius
Tip 2 – Check Off The Basic Elements
Do your landing pages have all the elements they should? Some of them are obvious, but some might be ones you skim over – yet make all the difference, including:
Clear Headline (matching CTA) and Sub-Header detailing page value

Supporting imagery (with alt tags!)

SEO optimization for long-tail/short keywords to optimize traffic

A clear form to capture the right end-user information for future communications

Tip 3 – Make Navigation Simple
With landing pages specifically, remove the dimensions of complexity by removing the main navigation bar and using visual elements to move the end-user down-page to the CTA/form field.
Where do you really want your leads going? A landing page should have one CTA that end-users interact with: don't include multiple Call-To-Actions, as it might confuse the end-user as to what the value proposition of your landing page actually is.
Tip # 4 – Include Social Proof/Testimonials
Customers nowadays are wary of any form of advertising – and rightfully so. The best way to communicate to potential customers is always through honesty, which builds the trust needed to make a sale.
With that in mind, social proof on reinforcing your value proposition will accordingly improve the value of your landing page, in turn helping to boost your conversions.
Why? One of the first things customers do before buying products – while in the shopping line – is look at Amazon reviews to get a feel for how things will work and if others have had success with their product.
Including 2-3 testimonials on your landing pages, ideally representative of your various target demographics, is key towards improving your conversions through building trust.
In addition to social proof, consider adding links/images to your partners, and potentially a small privacy statement in the footer of your landing page assuring end-users their information submitted will not be shared, sold, etc.
Tip #5 – Nail Your Form Fields
Time is a crucial commodity – especially among your page viewers. You have limited time to get end-users to your page, to explain your value proposition, and subsequently convert your users.
As such, you must ensure your form fields aren't excessive in the information your page collects: only get the information you need.
Your forms are conversations: respect the end-users time by having minimal spacing between fields and getting straight to the point with email collection – preferably in a single-column layout. Forms which convert well have, on average, 4-7 form fields to fill out.
Overview
Have you crafted each of your landing pages for success? Let us know the best practices you've used to help boost your conversions and if you agree with the tips above, here!